People are the most important part of every organization. Most managers agree that hiring the wrong person can have cascading effects that are damaging. Although the financial impact of a wrong hire can usually be quantified, its cultural impact to the team and organization can leave long term negative consequences that effect productivity and morale. Therefore, the importance of measuring the potential cultural symmetry between candidates and the hiring team during the hiring process is more important than ever.
Over the past few decades, organizational psychologists have developed an array of tools to assess many attributes of organizational performance like- Organizational surveys, 360 reviews, Team Assessments, Board Effectiveness Surveys, Customer Surveys, Individual Psychological Assessments, etc. The missing piece in many of the tools in the market has been an effective way to measure the cultural fit of candidates that fundamentally focuses on how one is predisposed to decisions and behaviours in the workplace. As an example, imagine a new hire who is a 10 out of 10 on all skills required for the job but in their style or mode of working, he or she is quick to make decisions and relies on learning through fast failure. One can easily understand that this type of person will not easily fit into a team where decisions are made with analysis supported by data. Thus, the challenge faced by organizations of all sizes is the ability to ascertain the cultural fit of each candidate for open positions in a manner that is ultimately quantifiable and can be scored such that by open positions, candidates are ranked from a cultural fit perspective.
HireLogic's Culture Fit Assessment is a propriety system designed to measure how candidates for a given position might fit within the hiring team. When Culture Fit is used with traditional skills assessment, a candidate's lasting fit within an organization and propensity to succeed as a member of the broader team can be clearly determined. The HireLogic Culture Fit tool focuses on measuring values that people care about in their professional environments and therefore it has relevance in how they make decisions and take actions. HireLogic has simplified the ability to ascertain values that both candidates and the hiring team care about by asking individuals to choose what is important to them in competing value pairs where one has to make the choice of where he or she ultimately aligns in a given scenario.
The Culture Fit assessment process is completed through a simple survey that provides a representation of how close a candidate's score on each value pair compares with the hiring team's score. The concept is that the closer the two scores are, the greater the probability that the hiring side and candidate are aligned on a given value pair. When taken together using all value pairs, a high score (3.5 to 5.0), means that the candidate and hiring team are more aligned than not from a culture fit perspective. Evidence has shown that when a candidate's values are more closely aligned with the team's values, they are more likely to thrive in the workplace environment than candidates whose values are misaligned.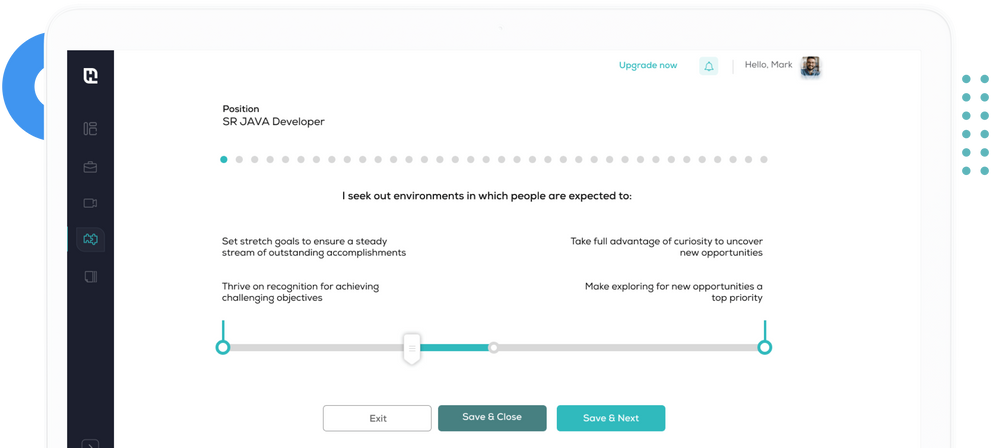 To illustrate this point, let us take an example. One value pair is Craftiness vs. Forthrightness. Craftiness is the value of keeping one's intentions relatively guarded as opposed to Forthrightness where one's intentions are transparent so colleagues with a vested interest can clearly anticipate and potentially collaborate on forthcoming decisions and actions. The built-in conflict within the spectrum of Craftiness and Forthrightness has the potential to create cultural tension in the team if the value pair is significantly misaligned. Understanding and appreciating the gaps in cultural value pairs can be a useful measure to determine how a person might get along with the hiring manager and the team.
The results of the HireLogic Culture Fit assessment are presented in three parts:
Individual Report: an in-depth report for every individual that explains their choices within the value pairs
Comparison Report: a report that compares the hiring manager value pair choices with a candidate's data
Cumulative Comparison Report that presents a comparison report outlining a hiring manager's responses with that of all candidates on a particular mandate
In summary, the HireLogic Culture Fit assessment is designed to go beyond personality tests to fundamentally understand how people are predisposed to thinking about workplace situations which is a pragmatic indicator of how one might fit within a team. Delivered as a set of 36 choices in a mobile friendly manner, now every candidate can be properly assessed for cultural fit.
To try this for yourself, take our Free Culture Fit Assessment and better understand your own preferences: https://app.hirelogic.com/open-culture-fit/introduction/new-user
For more information about our other product offerings, please visit www.hirelogic.com